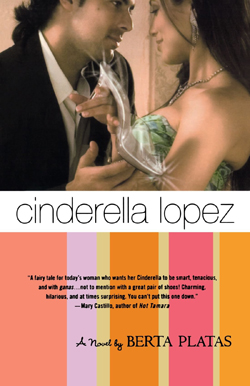 CINDERELLA LOPEZ
by Berta Platas
ISBN: 0312341725
Publisher: St. Martin's Griffin
Release Date: March 21, 2006
Good: You're a trust fund baby, you're single, and you work at the hottest music video station and get to mingle with the stars.
Better: You've just hooked up with the first "real" guy in a long time.
Bad: You're also the personal assistant to the Solas twins, the two hottest VJ's in the business (and the bitchiest)
Worse: They're your stepsisters, the station's been sold to huge media conglomorate, and your so-called life is about to disappear.
Ultimate Worse: That cool guy? Your new boss.

Publishers Weekly
"…imbues her story with Latin spice and a dance hall pace, and populates her New York with vibrant, virtuous heroes and deliciously wicked villains…"
Harriet Klausner – 5 out of 5 stars!
"Adult style Latino chick lit telling of the fairy tale Cinderella…follow as each of the characters steps out of the fairy tale and into a modern role. Fans will enjoy Cyn's transformation from doormat to lovely belle of the ball as she goes all out to win her "prince". A fun tale as Berta Platas provides a unique chica spin to Cinderella."