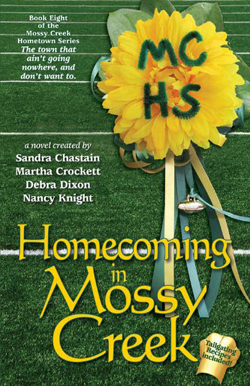 HOMECOMING IN MOSSY CREEK
Publisher: BelleBooks
Release Date: November 1, 2011
The eighth novel in the acclaimed Mossy Creek Hometown Series continues the warm, witty, and wise doings in a small Southern village you'll want to call home.
It's been over twenty years since Mossy Creek experienced Homecoming, and they're determined to do it right! And you know Creekites…if there's something interesting going on, they won't rest until they know about it. So when a letter shows up at the Police Station with a warning about ugly secrets hidden in the time capsule buried twenty years ago, the whole town is abuzz with the possibilities. Amos, Ida, & Win put Peggy Caldwell and Louise Sawyer on its trail, hoping the sleuth-loving ladies can find it before the week ends at the Homecoming Dance.
Meanwhile, Amos & Ida tangle in a deserted Haunted House. Ardaleen & Inez scrimmage at the Bake Sale. Pearl & Spiva spar as they volunteer at the Booster Club Canteen.
All of your favorite characters are back as Mossy Creek celebrates Homecoming with festivities that make Southerners cheer. Football. Homecoming Queens. Parades. Plays. It's all happening during Homecoming in Mossy Creek! Including stories from: Carolyn McSparren, Sandra Chastain, Martha Crockett, Debra Dixon, Nancy Knight, Brenna Crowder, Darcy Crowder, Susan Goggins, Maureen Hardegree, and Berta Platas.